In coordination with other public bushland managers, including the NSW National Parks and Wildlife Service, Council's fox baiting program occurs twice a year, usually in April/May and October/November.
Next fox baiting 2023:
9 October to 24 November (including a four week mandatory exclusion period following active bait laying)
Council baits the following reserves (map shown below):
Badangi Reserve, Wollstonecraft
Balls Head Reserve, Balls Head
Berry Island Reserve, Wollstonecraft
During each baiting program, dogs must not enter baited reserves as the 1080 fox baits used are lethal to canids (i.e. foxes and dogs), whilst being of minimal risk to native species.
Please check signs at the entrance to the reserves as the exclusion periods may vary. Cats are permanently prohibited from the baited reserves, which are designated Wildlife Protection Areas.
Council advertises extensively prior to fox baiting on signs at the entrance to the reserves, by letterboxing residents and other notices. The regionally-coordinated fox baiting program reduces the impact of fox predation on native wildlife in urban bushland.
North Sydney fox bait map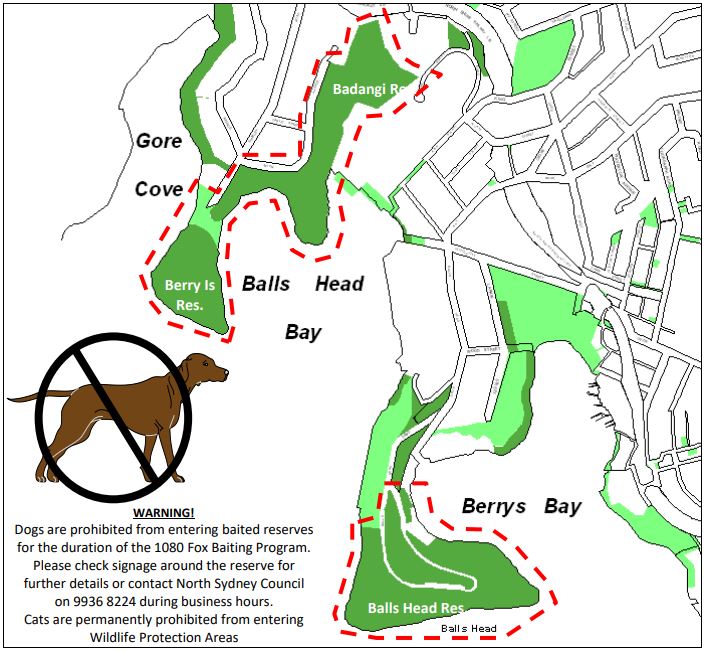 For more information about the NSW Fox Threat Abatement Plan 2010, contact the NSW Department of Planning and Environment or contact our Bushland Management Coordinator via our Customer Service Centre.
You can also help us keep track of fox numbers and their movements by reporting fox sightings to FoxScan.