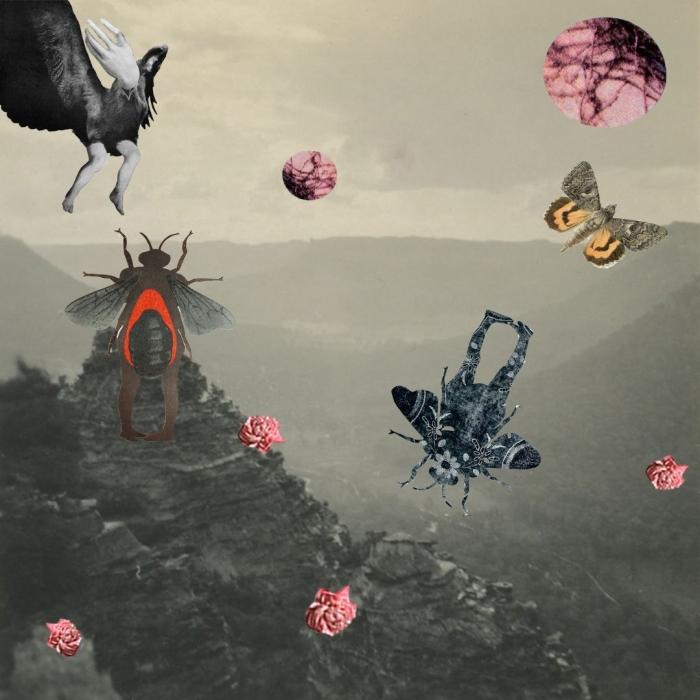 Ridge Street Window Gallery

Janet Parker-Smith Wicked Garden | 24 November 2023 - 8 January 2024
The work in this installation reconfigures found materials from our urban landscape and repurposes prints from the artists collection from over the past 30 years. Look and you might see recognisable materials from everyday life that have been transformed into new creatures, objects and forms.
Using different art forms including collage, printmaking, digital print, ceramics, knitting and textiles combined with chattels from the everyday, these materials come together to create an artwork known as the 'Wicked Garden'. Showing a flight of imagination it looks at ideas around our changing environment, friendships and adapting to new surroundings.
About Janet Parker-Smith
Janet Parker-Smith has a cross disciplinary process using Printmedia, sculpture and collage to create her work. She has been exhibiting nationally and internationally for over 30 years. Janet is well known as a local arts worker and also is a sessional teacher at the National Art School and Sydney Collage of the Arts.
Artist talks
Join Janet Parker-Smith in Conversation on Saturday 9 December at 11am
---
Visit the Ridge Street Window Gallery, 43 Ridge Street, North Sydney 7 days per week until 10pm.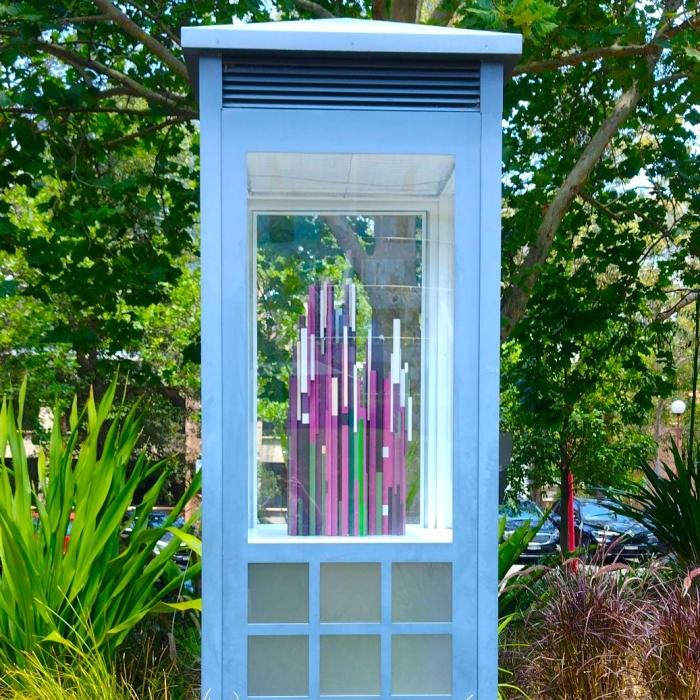 Inside Outside Sculpture Plinth

Ariella Friend Composition In Purple Fountain Grass Colours | 24 November 2023 - 8 January 2024
A new species of 'Purple Fountain Grass' has grown up into the plinth. Combining colours derived from the original plant's foliage and fluffy foxtails with bold geometric forms that resemble pixels on a screen, this sculptural work takes its visual cues from our glitchy screen based realities.
Ariella Friend is a Sydney based artist. Working in an expanded practice Friend's work challenges the boundaries between painting, sculpture and space. She is particularly interested in the way art can engage audiences in public spaces. Her practice reflects the tensions that exist between humans and nature.
By combining the traditional artist techniques of painting, cutting and assembling with non traditional artist materials such as found wood and discarded materials, I create sculptural forms and installations that are bold, multi layered, contemplative and dynamic.
recycled timber, acrylic paint, adhesive, varnish

---
Visit the Inside Outside Sculpture Plinth in Ted Mack Civic Park day or night.
Speak to our Arts & Culture team
For further information, please contact Council's Arts and Culture team.
Telephone:02 9936 8100