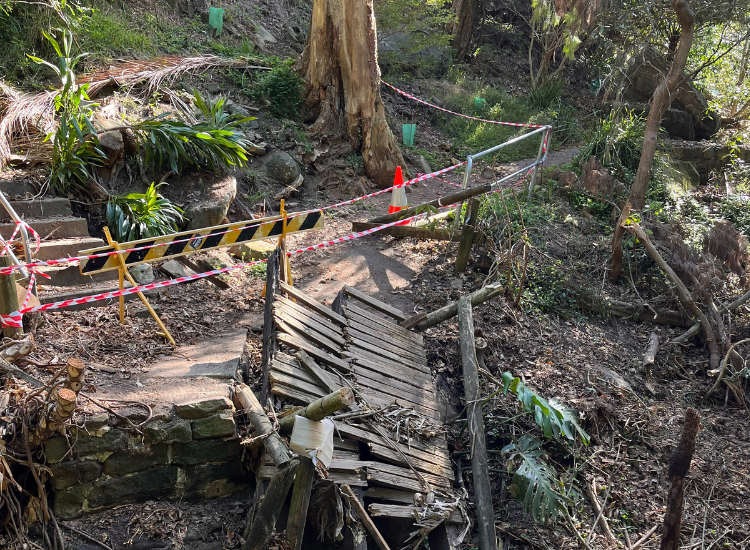 The Hunts Lookout footbridge in Cremorne Reserve, which was damaged in December 2022, is being replaced.
Council has appointed a Civil Works contractor to construct the new footbridge and aims to have the replacement footbridge completed by the end of July (weather dependent).
The original timber footbridge was partially destroyed by a large coral tree, which fell in December 2022, smashing through a section of the footbridge on the Mosman side.
Full removal of the tree and associated debris was completed in late January 2023. North Sydney Council arranged for a structural engineer to assess the remaining intact section of the footbridge to determine whether it could be repaired or would need replacing. Based on the condition of the timber subframe, it was determined that full replacement was necessary.
Council has appointed a structural engineer to design a replacement footbridge that:
complies with current Australian Standards (the original footbridge did not),
complements the natural environment of Hunts Lookout, and
uses construction materials that can be transported to the site by hand.
Given the footbridge length, distance between supporting piers and height above ground level, this was a relatively complicated design exercise further complicated by the difficult access.
Both North Sydney and Mosman Councils are acutely aware of the important link this footbridge provides to the community and are working to complete its (unplanned) replacement as soon as possible.
For further information regarding this project, please contact the Bushland Management Coordinator on 02 9936 8224 or email council@northsydney.nsw.gov.au