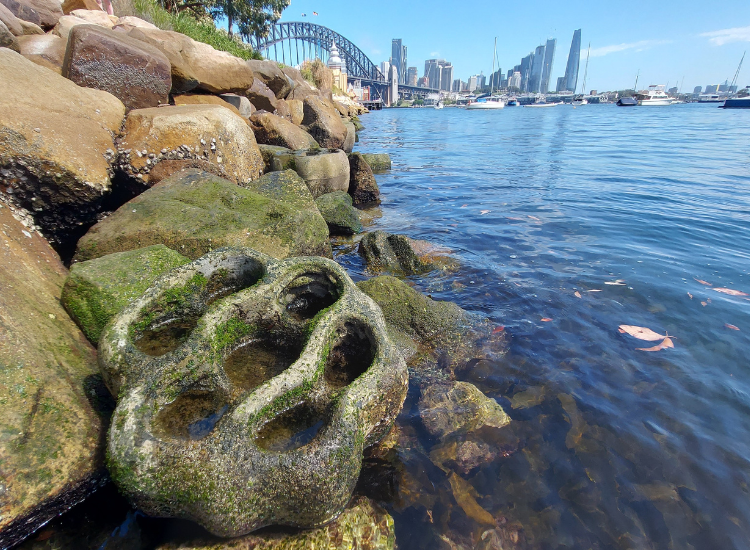 Snails, limpets and lots of green algae are finding new homes in the Living Seawalls habitat boulders at Lavender Bay.
It's been six months since 'Living Boulders' were installed on the eastern shoreline of the bay to provide rockpool-like homes for local marine life, as part of the Living Seawalls program run by the Sydney Institute of Marine Science (SIMS), with support from local business Sydney by Kayak and Council.
SIMS researchers were at the site last week for their six-month biodiversity survey, collecting data on the marine organisms that had settled in the boulders' rockpools and crevices since they were installed.
"We did a small survey at six weeks, and we found 16 marine species at that point," says Aria Lee, a SIMS marine ecologist and Living Seawalls lead researcher. "We're hoping that today we'll see more."
Aria explains that the team will compare the biodiversity of the habitat boulders with several other sites: the natural rockpools at Berry Island and Cremorne, the smooth sandstone boulders up and down the foreshore, and some smooth boulders made of the same material as the Living Seawalls boulders.
Council laid sandstone along the foreshore last year to prevent erosion of the shoreline. But these smooth boulders lack the rockpools needed to house and protect small organisms.
Aria explains that the Living Seawalls boulders, the first of their kind in the world, are designed to make the environment more friendly to marine life.
"The idea is that the Living Boulders will increase biodiversity," she says. "First we see green algae, which is good for snails and limpets. They chomp it down, and then other organisms will start moving in. By providing the base of the foodweb, we can boost the number of small fish, which encourages more big fish. We're building the ecosystem from the bottom up."
SIMS will publish the results of the six-month biodiversity survey in the coming months. Look out for an update in Council's print newsletter North Sydney News and on our social media channels.