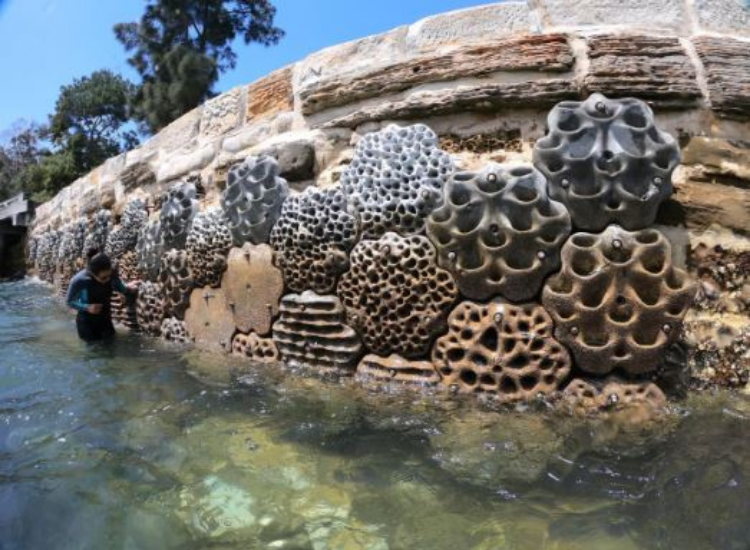 Carefully crafted panels are helping to bring sea-life back into Sydney Harbour after being attached to seawalls in Milsons Point and Sawmillers Reserve.
The habitat panels, which were installed along North Sydney's seawalls in 2018, have already increased biodiversity by an astonishing 264% in some areas when compared to flat control panels.
The habitat panels were designed by scientists from the Living Seawalls project at the Sydney Institute of Marine Science (SIMS) and industrial designers from Reef Design Lab. They contain nooks and crevices to house small sea creatures which are often missing on smooth, man-made seawalls. At Milsons Point, a panel to mimic mangrove roots was designed in partnership with Volvo.
Research found between 43% and 264% more species were observed on the habitat panels at Sawmillers Reserve compared to flat control panels over a two-year period . Monitoring and evaluation of the panels at Sawmillers Reserve has also revealed that different designs of seawall panels promote different species, and some of the panels now have a similar biodiversity to natural rocky shores.
A total of 115 species were observed across the panels, including 25 species of algae (seaweeds), 48 species of mobile invertebrates, and 42 species of sessile invertebrates such as non-mobile oysters and barnacles which filter water as they feed and can help to improve water quality.
Scientists also found the Volvo mangrove-style panels at Milsons Point supported 73% more species (90 species), including mussels, oysters and barnacles, compared to the flat control panels (52 species) after two years. More panels were added to Blues Point Reserve seawall in 2020, but this time they were embedded directly onto the seawall, rather than being detached from the face of the wall.
The embedded panels at Blues Point Reserve are the first to be trialled in Australia and the second in the world after Seattle city. A follow-up biodiversity report will be published once the trial period is completed.