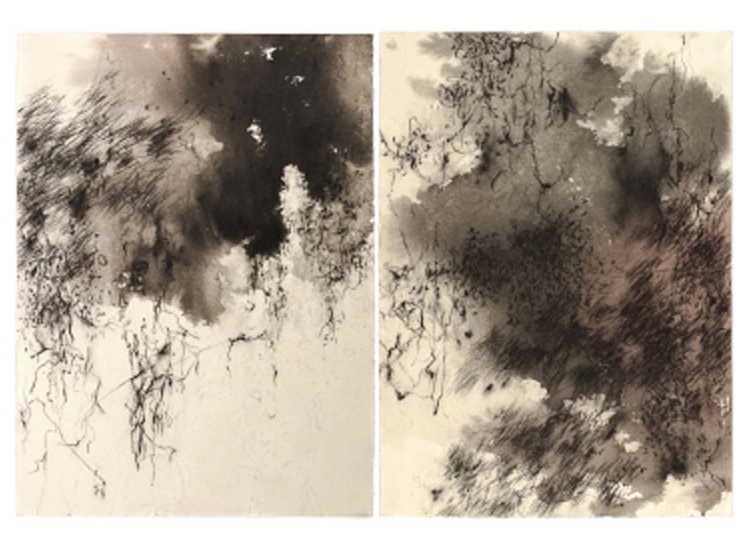 Primrose Park Artist Studios are located at Primrose Park Art and Craft Centre off Matora Road Cremorne. There are six fully equipped low-cost shared studio spaces provided on a twelve-month basis.
Shahroud Ghahani is an Iranian-Australian artist who holds a Bachelor of Design (Visual Communication) and a Graduate Diploma (New Media) from the University of Technology Sydney. She is currently studying a Master of Arts at the University of New South Wales Art and Design. With twenty years of work as a designer, Shahroud has won awards for her contributions to illustration, design and digital media in Sydney and abroad. These varied experiences have informed her creations as a visual artist. Her artworks are deeply layered and often incorporate elements of sculpture, photography and collage. Further, inspired by nature, her art employs a soft poetic language through explorations of pigment and texture.
Toshiko Oiyama's practice is focused on drawing. For her, drawing is a way of asking questions, and one question she has been asking is what it means for all things to be in a constant state of transience. Walking on the hot sand, seeing the Autumn colours, feeling the frost in the air, and then witnessing the budding greens, she draws and experiments, while asking that question. Born in Japan, she subsequently lived and worked as a graphic designer in Holland, the USA, Indonesia, Singapore and New Zealand before settling in Australia. In Sydney she switched her field to fine art, and obtained MA, MFA and PhD from the University of New South Wales. (Image featured above)
Frances O'Rourke holds a Bachelor of Fine Art from the National Art School and Certificate of Floristry from Pearson School of Floristry. Frances is primarily interested in painting and drawing landscapes and will often paint Plein air as it provides a direct and intimate connection with nature. It was on her most recent trips to the Kosciusko High Country and the Eastern MacDonald Ranges that she was truly able to explore and articulate her passion for nature in all its manifestations and forms, using a vibrant palette of acrylics.
Beth Radford creates complex hard-edge geometric paintings that refer to the inherent systems that govern the natural world. With a Bachelor of Science (Mathematics) and a Bachelor of Arts (Religious Studies), the University of Sydney, Beth unites her interests to create pieces that are intended to be both intellectual explorations of form and symmetry, as well as objects of contemplative focus.
Artist and academic, Dr Katie Louise Williams completed her PhD at Sydney College of the Arts in 2017. Katie's practice is focused on socially-engaged works that employ forms of performance, installation, painting and film. Often incorporating audience action as the living material of her work to create a space for thought and questioning around cultural forms, authenticity, and agency. Katie has exhibited in Australia at galleries such as Art Gallery of NSW, Roslyn Oxley Gallery 9, Town Hall Gallery Melbourne and at multiple ARIs including Peloton, MOP and Alaska. She has worked and exhibited internationally at the Banff Centre of the Arts in Alberta Canada, The Prague Quadrennial of Performance, Design and Space, at the London Transart Triennale.
Visit our What's On page to find out about public programs, open studios and workshops at the Primrose Park Artist Studios.
The call out for the 2023/2024 program will commence in May 2023.