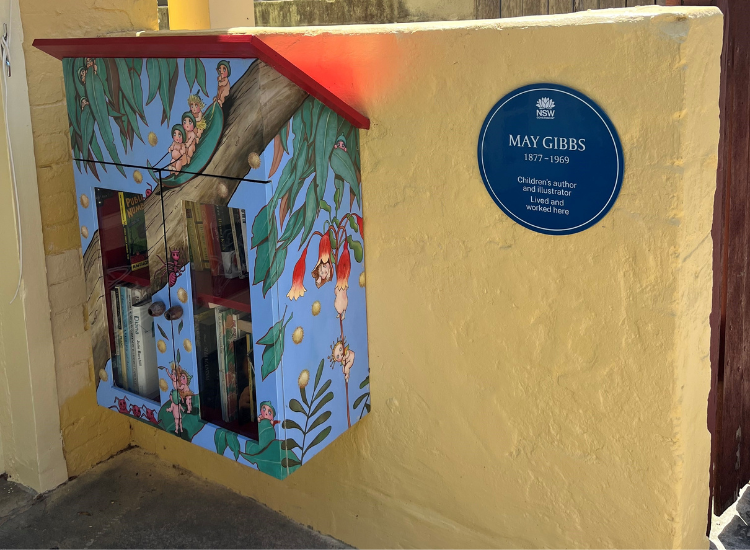 May Gibbs' home Nutcote and Brett Whiteley's former residence have been recognised with Blue Heritage Plaques.
Two Blue Heritage Plaques have been unveiled in the North Sydney Council area, recognising May Gibbs' home 'Nutcote' and Brett Whiteley's former residence at Lavender Bay.
Blue Heritage Plaques celebrate heritage by linking people of the past with buildings of the present.
Nutcote, the home of May Gibbs
May Gibbs was Australia's first full-time, professionally trained children's author and illustrator. Her deep love for the Australian bush shone through her works, inspiring characters based on banksia pods, gumnuts, flannel flowers and boronias. She became most famous for her two gumnut babies – Snugglepot and Cuddlepie.
In 1925, Gibbs and her husband moved into Nutcote, the harbourside property in Neutral Bay. It was designed for them by renowned architect B J Waterhouse. Gibbs lived there for 44 years, until she passed away in 1969. The property was then sold and there was a threat to demolish it. Luckily, a passionate group of community supporters succeeded in a nationwide campaign to save Nutcote.
Today, the home and surrounding garden has been restored to reflect the time Gibbs lived there. It operates as a museum and is protected by a Permanent Conservation Order. It is listed on the Register of the National Estate.
Brett Whiteley and his artistic influence at Lavender Bay
A celebrated Australian artist, many of Brett Whiteley's paintings were conceived at his home and studio in Lavender Bay. He and his wife purchased the property in 1974, which is where he lived and worked until 1988.
Many of Whiteley's paintings were inspired by his view of the picturesque Sydney Harbour from the home. He has won many awards for his art, including the Archibald Prize in 1976 for Self portrait and the Wynn Prize in 1977 for The Jacaranda Tree. His works are in permanent collections in every state gallery across Australia.
The Blue Heritage Plaque, which honours Whiteley and his contributions to art in New South Wales and Australia, is installed in Wendy Whiteley's Secret Garden.