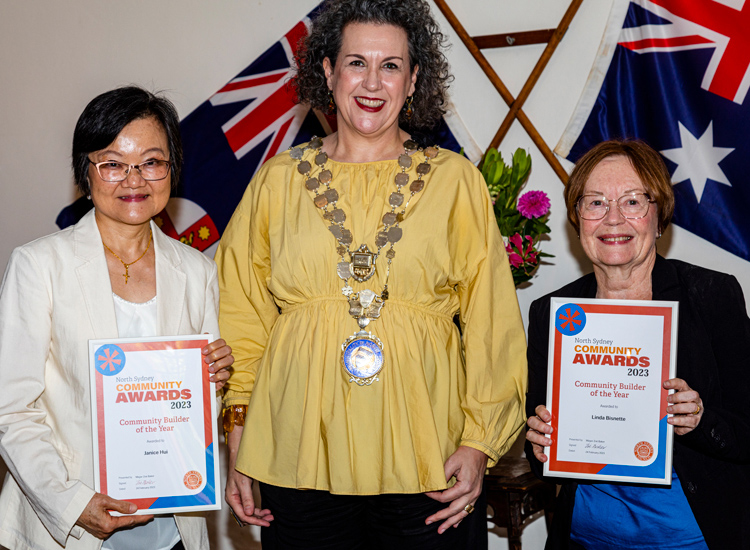 From regenerating local bushland to helping skilled migrants find work, the awards recognise and celebrate our local citizens, and the contribution they make to our community.
The 2023 Award nominees attended a special presentation ceremony on 24 February 2023 at North Sydney Council Chambers where the winners were announced.
There were four award categories:
Community Builder
Eco Warrior
Next Generation
and Living Legend.
Mayor Zoë Baker said: "It is incredibly important to recognise what local citizens and groups are doing within our community to make it a better place for all. The North Sydney Community Awards acknowledges their outstanding contributions and serves as inspiration to others. Thank you to all of this year's nominees, and congratulations to the winners."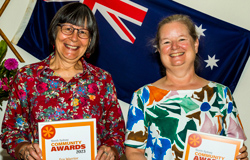 Eco Warrior award winners Ruth Mitchell and Anne Pickles
Council has revitalised the North Sydney Community Awards, making it independent from Australia Day and overhauling the list of categories. The judging panel consists of North Sydney Council's Mayor and Deputy Mayor, as well as the Community Awards Committee.
Award winners for 2023
Janice Hui and Linda Bisnette were the joint winners of the Community Builder Award. Scroll to the bottom to watch their video interview.
They were recognised for their work in helping skilled migrants gain employment through a workshop and one-on-one coaching services at Crows Nest Centre. More than 70 per cent of participants have found jobs linked to their professional field of expertise as a result.
Linda is also President of the Zonta Club of North Sydney. Honourable Mentions went to Matt Dawson, John Hancox and Audrey Tonkin.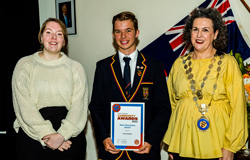 Next Generation award winner Patrick Boldand, with Counsellor Georga Lamb and Mayor Zoe Baker
Eco Warrior Award went to both Anne Pickles and Ruth Mitchell for their work with Wildlife Watch – an initiative where volunteers record wildlife observations. Scroll to the bottom to watch their video interview.
Anne has added almost 2,000 entries into Council's BioCollect database. Meanwhile, Ruth has entered more than 300 historic wildlife records into the database.
For the Next Generation Award, there were four winners.
First, Patrick Boland who has been helping rehabilitate local bushland through the North Sydney Bushcare Program since 2019.
He has logged 43 hours of voluntary service, mostly spent controlling exotic weeds at Forsyth Park, Smoothey Park, Tunks East and Harry Howard Reserves. Scroll to the bottom to watch his video interview.
Loreto Kirribilli students Imogen Wills, Lauren Moloney and Olivia Menzies were also announced as winners for this award.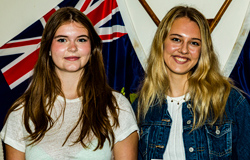 Next Generation award winners Olivia Menzies and Imogen Wills
The trio have been instrumental in establishing Loreto as a sustainable school by formally setting up an Environmental Sustainability Framework.
Before graduating Year 12 in 2022, they initiated programs such as Earn and Return, a 'War on Waste' clean-up day and Plastic Free Canteen.
Finally, there were 29 joint winners for the Living Legend Award – all of whom are volunteers with the North Sydney Bushcare Program, which celebrates its 30th anniversary in April.
Each have contributed 20 or more years of service:
Donald Melrose (30yrs), George Barbouttis (30yrs), Heather Robson (30yrs), Mary Lyn Lawrence (30yrs), Nicole Bannister (30yrs), Andy Craig, Anita Semler, Ann Lyons, Bud Coffey, Dick Gall, Eddie Tsui, Frennie Beytagh, Hilary Walker. Ian Clarke, Jan Thomas, John Brewer, Joyce Meyer, Kim Shepherd, Lynne Cook, Margaret O'Brien, Margaret Ryan, Mart Vesk, Michael Young, Nancy Heywood, Penelope Blau, Penelope Erikson, Rosslyn Young, Sissi Stewart, Victoria Whitney.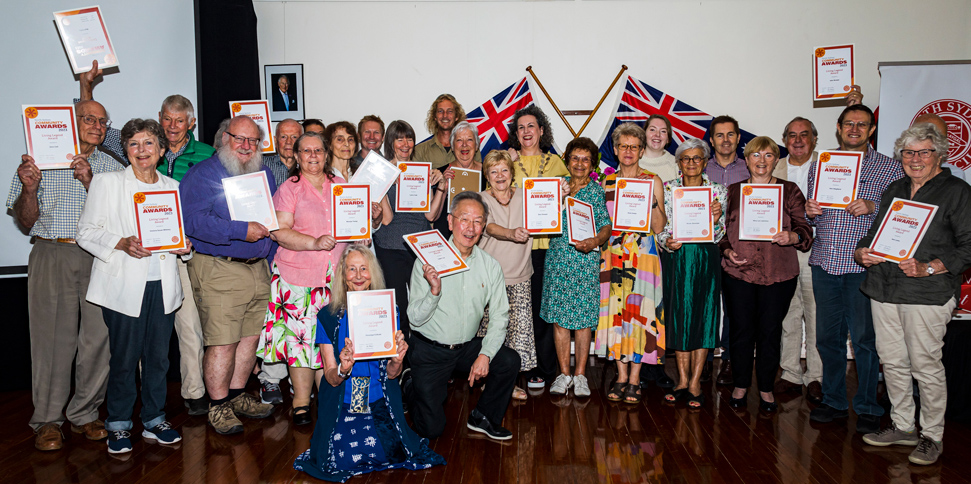 The Community Awards 2023 Living Legend Award winners
North Sydney Community Awards co winner - Janice Hui
North Sydney Community Awards co winner - Linda Bisnette
North Sydney Community Awards - Eco Warrior co-winner Ruth
Volunteer Week 2022 - Wildlife Watch
North Sydney Community Awards - Next Generation winner Patrick