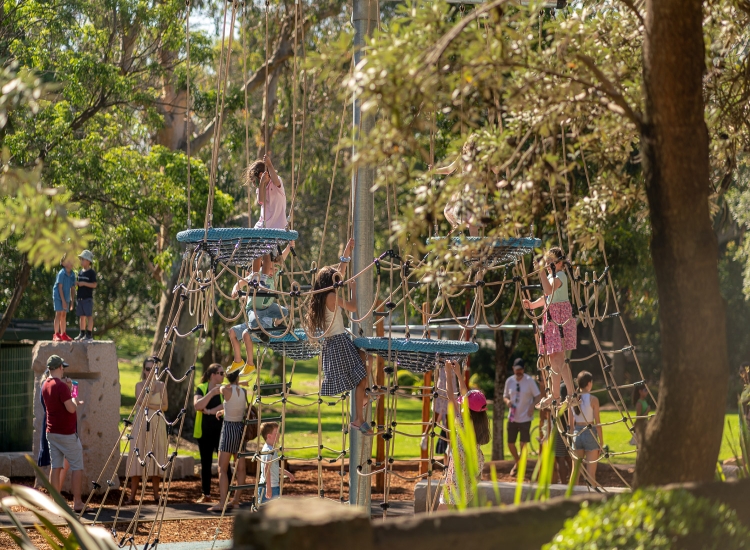 A huge 'eagles nest' climbing frame is just one of the exciting new features in the recently expanded St Leonards Park playground.
The pre-existing playground was renovated and a new play space created for older children aged 12 and up, thanks to a State Government grant and North Sydney Council funding.
The new playground, which was officially opened on Sunday 26 February by Minister for Planning and Minister for Homes Anthony Roberts and North Sydney Mayor Zoë Baker, has already become a much-loved spot by locals.
Mayor Baker said: "It's wonderful to see so many children of all ages enjoying the new and refurbished play equipment, particularly the new giant swing and climbing frame.
"While we have many treasured playgrounds, we don't have many of this size and scale that cater for older children. With so many schools nearby, I'm sure this playground will be well used and much-loved for years to come."
Minister for Planning and Minister for Homes Anthony Roberts said the NSW Government was thrilled to provide North Sydney Council with $4.75 million to both upgrade the popular playspace and acquire and revamp land along the Waverton Peninsular foreshore.
"Public open spaces are at the heart of our communities, and the pandemic reminded us just how important they are in connecting us all, and maintaining our health and wellbeing," Mr Roberts said.
"That is precisely why we launched the $250 million Public Spaces Legacy Program – the largest injection of funding of our generation, into improving access to quality public open space across the state.
"The park refurbishment features a variety of equipment for a range of ages and abilities, reinforcing our government's commitment to creating inclusive playspaces."
The new playground area for older children includes:
a giant 360 degree swing
climbing structure with monkey bars
eagles nest climbing and hiding structure
skysurfer swinging and balancing equipment
track ride allowing kids to glide from one end of the track to the other
a climbing boulder
and balance beam.
The existing junior playground has also undergone a revamp, with all equipment being refurbished with some new elements added, including:
the existing outdoor music room and instruments
the quadruple swing set
a spinner with a new ground level accessible platform
sandpit activities with new interactive water and sand play equipment
addition of imaginary bush turkey inspired by the natural habitat of the park
snakes and ladders' activity on the surface of the new footpath
refurbishment of the existing combination play unit and climbing structure.
New plants and picnic areas have also been added to both parts of the playground.
The refurbishment and expansion was proudly funded through the NSW Government's Public Spaces Legacy Program and North Sydney Council.
For more information, visit: https://www.planning.nsw.gov.au/public-spaces-legacy-program